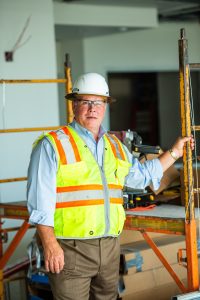 Meet Our Board Member: 
Tim Keating
In honor of Men's Health Month, our board member Tim Keating shares his wellness routine and why he's proud to advocate for a healthier West Orange community. 
Can you tell us a little bit about your background and how you became involved with the Foundation for a Healthier West Orange? 
I think I was born into it … just kidding! I believe my time on the West Orange Healthcare District board and the exposure to how a hospital was run when the District did own a hospital, exposed me to the challenges that people faced getting health care in our community. 
What we discovered was that many were just unaware or didn't have an opportunity to make healthier choices. So, as we looked at how we could affect change in our community, the idea for a Healthier West Orange was an idea that we all could rally behind. Was it grandiose? Absolutely. But it was also something that no matter what economic status you resided in, you could join the movement.
What do you believe is the most important work that the Foundation is doing, and how do you see it making a positive impact in our community?
Our focus on the wellbeing of the community is what I'm most passionate about. Healthy West Orange has been instrumental in keeping this front and center and really hasn't strayed from that mission. Keeping in front of the community keeps it in front of me as an individual, and that's where it starts. We have to first take personal responsibility and as more of us do, it affects how our community reacts. I can see that happening with the public involvement in Healthy West Orange and the activities we promote.
What are your favorite ways to stay active and healthy, and how do you incorporate them into your routine? 
Spending time in my yard. I'm fortunate to have enough property to have raised garden beds, bees, blueberries and a workshop that allows me to get outside and enjoy what we have here in Central Florida. I golf when I have time, I enjoy hunting and fishing and probably the number one thing I do is rise early and work out in my barn. We have a small room where we have exercise equipment that my wife and I share. Twice a week, someone comes to the house and gives us instruction. We both are committed to it and do our best. Are we perfect? Am I the picture of health?  Not a chance, but it's a journey and I'm on that journey!
Studies show that men aren't always as proactive as women when it comes to their health. Why is it so important for men to prioritize their health and wellness? 
Men, in general, are probably not very good stewards of their health and wellness, including our mental health. As a result, we hold things in and do a pretty poor job expressing ourselves and letting the stresses of everyday life go. 
We also tend to believe we can "fix" ourselves without much help and in a short amount of time. Both approaches typically lead to unwanted consequences and not much success. What we need to learn is we do need help and we do need that motivation to be on a healthier path. Fortunately, being around Healthy West Orange keeps it in front of me all the time!